CDBG-DR Grant Programs to Support Economic Revitalization and Resilient Infrastructure
Terrebonne Parish has received a total of $41,423,492 targeted to support economic revitalization and resilient infrastructure. The funds are allocated through the State of Louisiana Office of Community Development from the U.S. Department of Housing and Urban Development (HUD) CDBG-DR program.
These CDBG–DR funds are disbursed among the "most impacted and distressed" (MID) areas across the country for necessary expenses for activities authorized under Title I of the Housing and Community Development Act of 1974 (42 U.S.C. 5301 et seq.) (HCDA) related to long-term recovery, restoration of infrastructure and economic revitalization, and mitigation resulting from a qualifying major disaster in 2020 or 2021.
These funds are restricted to be used in eligible categories under the following two programs. The funds cannot be used for individual home repairs or homeowner elevations.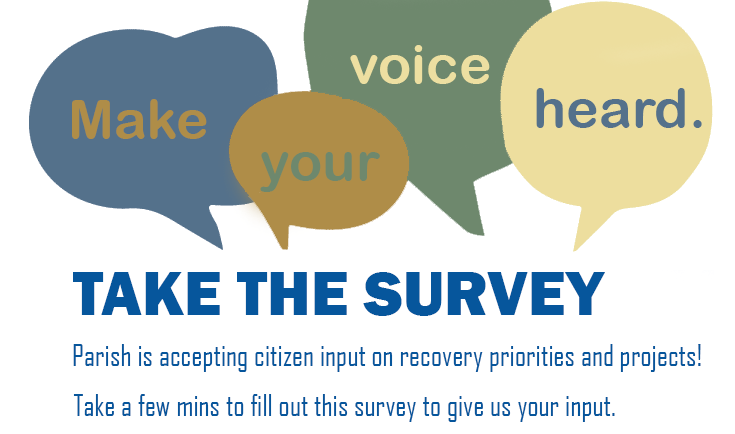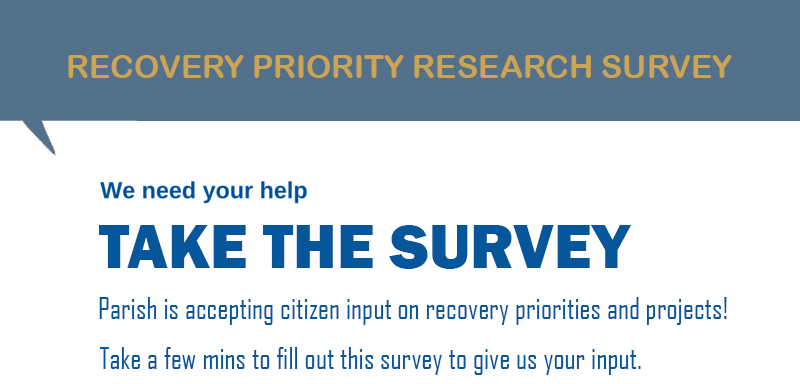 Public Meeting Presentation
A. Hometown Revitalization Program (HRP)
$24,748,072 CDBG-DR allocation. This program is designed to encourage new economic opportunities, restore jobs, and revitalize commercial districts that suffered major damage as a result of 2020-2021 disasters.
B. Resilient Communities Infrastructure Program (RCIP)
$16,675,420 CDBG-DR allocation. This program is designed to fund unmet needs for infrastructure repair or development in areas impacted by the 2020-2021 storms. This includes projects such as drainage improvements to reduce flooding, replacement of flood mitigation structures, or relocation of public buildings from high-risk to low-risk areas.
1. Houma Main Street Plan(Draft) - Main Street Corridor Revitalization Plan For A Thriving Downtown
Vibrant downtowns are the economic and cultural heart of a city. They support businesses, draw new residents, and provide opportunities and spaces to draw community together. Downtown Houma has the potential to become, once again, such a downtown, and to spur rippling investment and growth in the greater Houma region. Advantages such as historic structures, rich local culture, and a central waterway (Bayou Terrebonne), can draw new visitors, residents and businesses if the right incentives and programs are put in place. Downtown Houma is poised to take advantage of a unique confluence of community interest and support, renewed energy, and one time funding opportunities to make change happen.
This plan was developed in partnership between Terrebonne Parish Consolidated Government and Houma Restoration District Board along with other downtown stake holders.
This plan will examine the current conditions of Downtown Houma, relevant case studies to envision success, implementation strategies, funding mechanisms. Read More...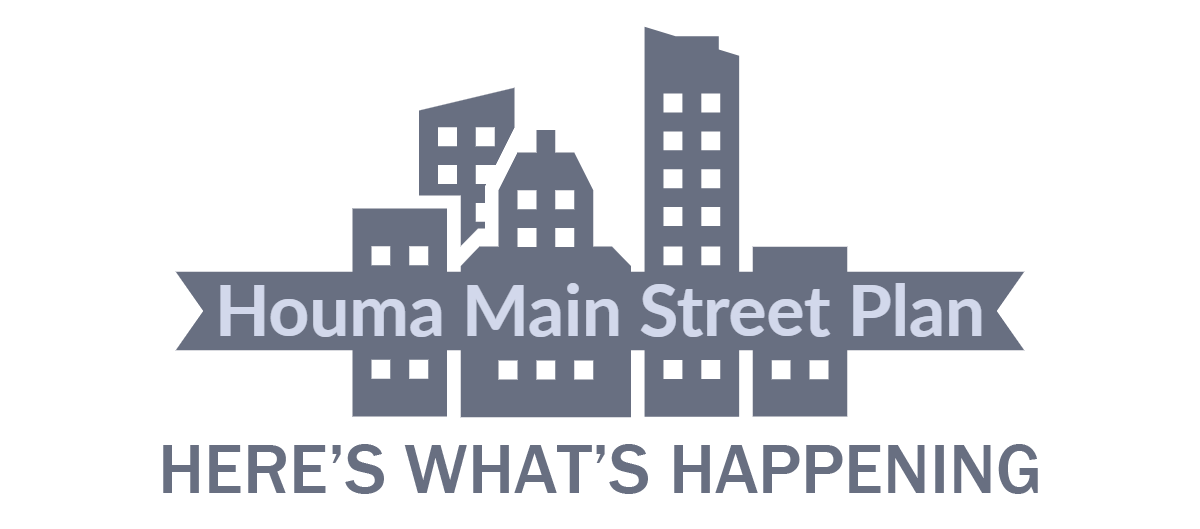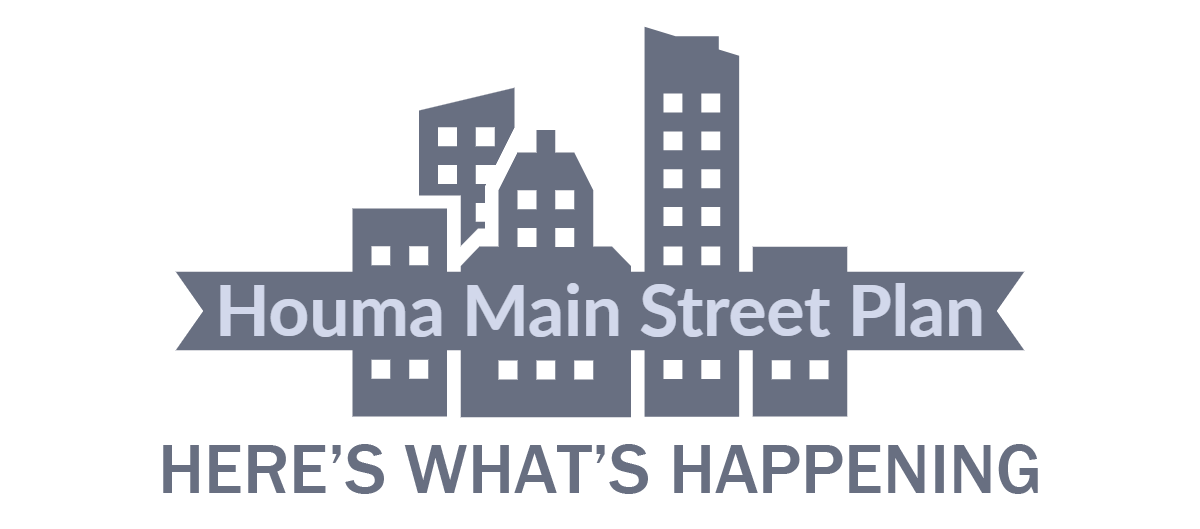 Public Meeting
Dumas Auditorium
301 W Tunnel Blvd, Houma, LA 70360
2. Long Term Recovery Plan(Draft)
The people of Terrebonne Parish have weathered many hardships over the years, perhaps more than most. Prior to the acute shocks of COVID-19 and Hurricane Ida, Terrebonne Parish had been struggling with the challenges and pressures brought by extreme weather events, economic decline, and coastal land loss. However, even through these adversities, the people of Terrebonne Parish have continued to keep the Parish the wonderful place it is by coming together to help during these challenges and keep the spirit of the community alive.
The wide variety of funding available, and complexity of the recovery process, requires a centralized and overarching recovery strategy. Funding opportunities through the Inflation Reduction Act, Infrastructure Investment and Jobs Act, American Rescue Plan Act, FEMA Building Resilient Infrastructure and Communities, Hazard Mitigation Grant Program, and Community Development Block Grant - Disaster Recovery, among many others, have become available for long-term recovery projects and disaster mitigation projects for communities such as Terrebonne.
This plan endeavors to map out long-term strategies at varying scales that are designed to reduce social, environmental, and economic risk while cultivating new forms of growth. It builds on the existing planning efforts described in Section 1.5 to present a platform for prioritizing a suite of recovery actions to comprehensively address the complex challenges faced by Terrebonne Parish. Read More...
When developing a plan of any kind, it is crucial to engage the community for guidance and input. Your Input Matters!
Recovery Priority Research Survey
Parish is accepting citizen input on recovery priorities and projects! Take a few mins to fill out this survey to give us your input.
Take the survey
Community Meetings
The meetings will cover a variety of topics pertaining to Hurricane Ida recovery, including:
Recovery update – What has already been done in Terrebonne Parish, and where is the funding coming from?
Parish priorities – How is the parish prioritizing the work that needs to be done? We'll discuss building safe and strong housing, fortifying public facilities and utilities, investing in economic recovery and development, and protecting and restoring natural infrastructure.
Long-term plans – How do Hurricane Ida recovery plans align with the Parish's long-term plans? We'll discuss our Recovery Plan, Comprehensive Master Plan, Main Street Corridor Master Plan, and the Hazard Mitigation Plan Update.
Your involvement – We need you to identify specific areas of concern or ideas that you have for the parish and specifically for your community.
Representatives from several agencies will be on hand to offer updates and field questions. We also want your feedback, so be sure to tell us what's important for your community.
All meetings are free and open to the public.
Public Meeting
Dumas Auditorium
301 W Tunnel Blvd, Houma, LA 70360
---
Public Meeting
Ward 7
5006 HWY 56, Chauvin, LA 70344
---
Public Meeting
Terrebonne Parish Library- Main Branch
151 Library Dr., Houma
---
Public Hearing to discuss Main Street Corridor Master Plan
Houma Terrebonne Regional Planning Commission
Government Tower Building 2nd Floor Council Meeting Room,
8026 Main Street, Houma, LA 70360
---
We Want Your Input!
Complaints, Comments, Concerns, or Need Information? Let us know
<